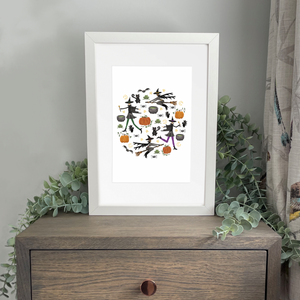 This one is for all my witches!!
A crafty coven who are plotting and scheming (actually in reality, making dinner, organising play dates and looking after pets!) Maybe we have more in common with or witchy sisters than originally thought!
Lovingly created using digital methods. Designed and printed in Ireland. 
This is printed on gorgeous recycled card and comes unframed. Let's break it down!
- Uncoated, recycled 260gsm paper with cotton content giving a distinct rich, tactile feel
- Made up of 55% FSC fibres, 40% Recycled fibres and 5% Cotton fibres
Keep safe from water, moisture and sticky things to maintain the prints's quality.
Note: A4 print includes mount insert and is unframed.